The Hot New College Amenity – Affordability
Speaking at the American Council of Education recently, Mitch Daniels (the governor-turned-university-president) offered this assessment of educators' mindset on college tuition affordability: "there still is a degree of denial that anything is materially different."
Using pricing policy as a barometer, my own research supports that.
Even in an era of public outcry about price and cost (synonyms in the dictionary but I will explain the difference in the highered market), concerns about the value of the collegiate experience, and seeming to contradict its own imperative to increase access, colleges continue to raise price.
Price tag "lift-off" = Deterrent Pricing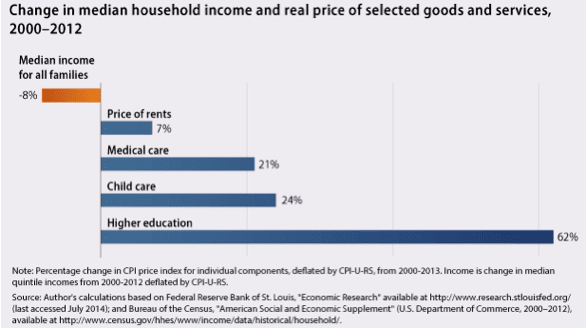 College Tuition Affordability
Do colleges see more revenue? better retention? improved quality? a more diverse student population? Does this increase student satisfaction and alumni loyalty?
Are families happier more satisfied? IS highered receiving accolades for… anything? or brickbats?
In individual conversations with college presidents I detect a "this is going to hurt me more than you" tone when we discuss price or the inevitability of price increases. Presidents correctly cite the increased cost of doing business, in general, and the special value of the educational experience on their campus, in particular.
Presidents have to be positive cheerleaders and advocates. But they also have to be stewards, informed leaders who can advocate for a realistic approach to sustainability.
Now – more than ever before – colleges are in a market-driven environment. Mitch Daniels warns us that not accepting that is perilous, and common sense suggests that acknowledging reality is always a good, smart, efficient approach.
No institution needs to conform to "the market" or pander to "customer" whims. Mark Burstein, the president of Lawrence University, wrote a very good piece recently where he said:
A primary goal of the service industry is to delight the customer…. But should academic offerings always provide delight? In my experience in college and graduate school, learning happened through challenging academic interactions; those experiences were not always delightful. When I graduated, however, I felt extraordinarily grateful for the learning that took place through the rigorous academic journey I had completed. 
---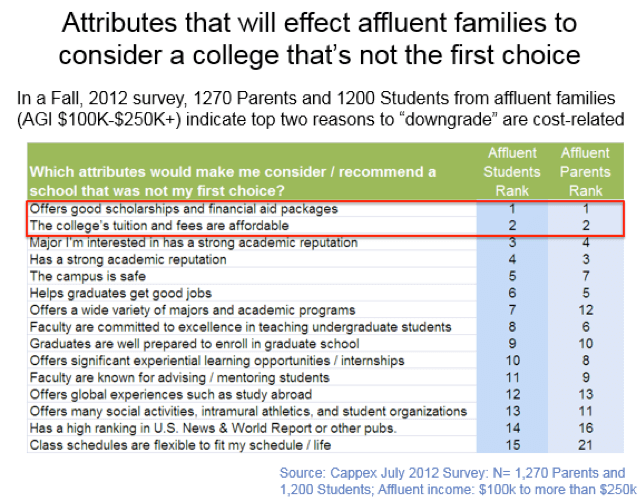 In this regard – curricular- and co-curricular content and pedagogy – it is true that "teacher does know best." But when highered leaders dismiss or downplay the pressure and power of external forces like government regulation and consumer preferences they really do so at their peril. Funding is being reduced and families are "voting with their feet." More and more families these days willing to pass on a first-choice college on the basis of cost.
Enrollment is, like TV's Nielson Ratings, a lens through which an institution's viability can be measured. Loyola, St Mary's, and Sweet Briar are a few of the highest-profile examples of this.
A friend, who is a vice president at a wealthy and highly-ranked private university, made an observation that has only grown in significance for me. Referring to passion and pride, he said "the same quality that makes our grads great alumni makes them bad trustees." Boosterism and advocacy are good, to a point, but if they morph into a tunnel-vision hubris, the important 360° conversations won't occur.
The belief that price is a proxy for quality is rooted in an era that ended around 2008. Pricing to a peer group because "you are known by your associations" won't impress a family as they make the decision where to send their child to college.
Look to the market, not in the mirror when making strategic decisions. It won't do to say "it won't happen here" or to think solutions will come by "stealing market share."
Students are the raison d'être for highered (okay, but right up there). Besides being the largest constituency on campus and a significant portion of mission-fulfillment, students also pay the bills: the vast majority of colleges and universities are highly dependent upon student fee revenue.
Annoyingly clear but worth stating: Without students you have no reason to exist and without their money you don't exist.
Back to my conversations with college presidents and their leadership teams. Good, committed people who come to work each day – and stay awake many nights – to do the very best they can for their students and their institutions.
Balancing competing – sometimes mutually-exclusive – imperatives is not only not easy it is often, by definition, impossible. But what the head knows the heart may not accept.
---
Perception and reality of affordability, a driver like never before: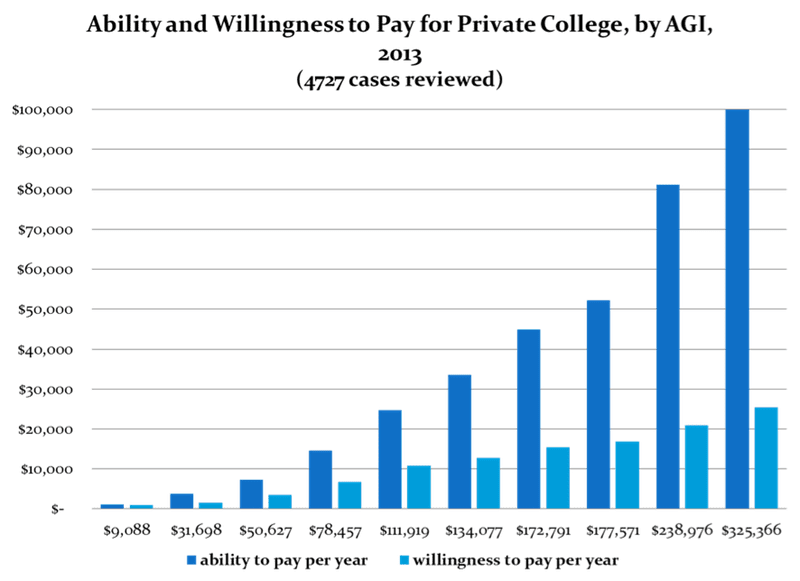 The situation: the "cost of doing business" keeps going up, driven, paradoxically I am told, in part by expense of adding amenities that students want. The pipeline of college-ready kids from college-educated households who are able and willing to pay is decreasing. Competition is becoming more intense. Your college needs more money. Do you balance raising price with reducing financial aid "expenses?" or take another revenue-side approach?
Two Case Studies:
College #1: Price tag, up; discount, restrained; revenue and enrollment down.
After years of steady growth, enrollment began a decline that has continued
In 2010, they had 2267 students paying an average of $19,414
By 2012, there were 2224 students (a 1.9% drop) paying $19,638 on average (+1%)
During this period tuition charges rose $1790 (5%) to $37,280

Alarmingly, entering new students cost (what they were paying) actually decreased by $687 (a 4% drop) to $17,745, discounted at 52.4% (a 14% increase in three years)

The increase in per-student revenue was not near enough to offset the drop in enrollment, yet they continued to increase price 1) "because we need the money," 2) because "we don't want to appear in trouble," and 3) because "we want to be in line with our peer group."
College #2: Price tag, flat; discount, up; revenue, way up as enrollment increased.
For years, as enrollment declined, they increased price and restrained financial aid because they "needed the money"
As price rose and discount stayed flat, enrollment plummeted
In 2008 they (1) froze tuition, (2) promised not to increase it, and (3) adopted a more family-friendly discount policy (to enable enrollment and retention)
Results
Undergraduate applications up 37%
Increased enrollment by 25%
Increased revenue from student fees by $11,560,870
More students applied, enrolled, and stayed. This college learned that, for families that valued its educational experience, finding the right price – and finding the right per-family discounting – attracted record numbers of applications which translated to enrollment growth.
---
Rational Price/discount policy Enables Enrollment and Optimizes Revenue
If sticker price goes up but revenue doesn't, why increase the price tag?
If sticker price is a deterrent to prospective families, why increase it? WHY SCARE THEM AWAY?